WATER CONDENSATE PRODUCED.


WATER IS GRAVITY DRAINED AWAY.



Ideal for Homes, Offices, Pools, Museums & Storage.
80

Litre Compressor Dehumidifier 220V / 50Hz.
Swimming Pool Ready.
Free Standing or Ceiling Hung.
Will dry 24/7 and dry to 40°C/104°F. Can work down to 4°C/40°F.Internally protected for use in swimming pool areas if needed. Used in a wide variety of commercial applications and large home applications from storage to production areas.  Commercial grade used in  commercial buildings such as museums and offices.
Very easy to access the internal parts for any service needed.Comes with internal re-gassing points.
All Steel Construction.



Rear accessible controls. An additional plug in humidistat can be added for automatic humidity level regulation.
Energy efficient with optimum cooling and compressor operating times based on an internal microprocessor calculation to optimize performance.
One brass plumbing drain hole with screw tread for secure connection.
Features Explained
Extraction – Very strong 190 Litre warehouse dehumidifier. Good use for swimming pools.
HEPA TYPE Filter – The dust filter and pollen filter. Great for allergy suffers.
Easy Repair – Easy access to key parts from the top cover.
On Four Screw Feet – Optional removal to provide anchor points. Often slung from beams on hangers high up to allow access to filters for cleaning and to maximize the extraction as moisture migrates upwards.
One Fan Speed – The fan setting fixed for maximum performance.  Fan designed to work independently of the dehumidification system. Makes an in-built home air purifier when drying is not needed. Achieved by bridging terminals F & C in the diagram with suitable controller.
Power Supply – Thus, 220V 50Hz.
Auto Reset – If there is an interruption to the power supply, the dehumidifier will resume automatically controlled by the humidistat (not provided).
Hard Wire Humidistat Connection – Covered low voltage control panel. Helps separate humidistat or central air system via lining. Control humidistat EPHUM24 low voltage humidistat.
Note when testing bridge terminals :-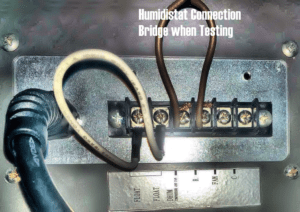 Click Picture To Enlarge
Drainage – Gravity drained through a standard 19mm (3/4″) Female drain fitting ensures better connection and less chance of damage. Can be used in conjunction with condensate pump if needed to pump water to a higher height (not provided). Optionally used together with condensate pump if gravity draining is not possible.
2m / 6″ Power Cord – When placed near to a water supply, the plug should be removed. Hard wire to a fused splash proof power socket near a water supply.