Condensate-Free Operation: Unlike traditional refrigerant dehumidifiers, this desiccant dehumidifier doesn't produce condensate water, which can be beneficial in certain applications where water removal isn't desired such as in freezing conditions..
Moisture Venting: Moisture is vented away from the machine, eliminating the need for collecting or disposing of condensate water.
Voltage Options: Available in both 110V/60Hz North American and 220V/50Hz Rest of World (RoW) versions, with interchangeable plugs using the patented Ecor Pro plug system.
Auto Power Reset: The dehumidifier features an auto power reset function. In case of power interruption, it can reset itself to the previous settings. Alternatively, with WiFi control enabled, the user receives a notification on their phone when power is interrupted.
Installation Options: The dehumidifier is designed to be versatile in its installation. It has four plastic feet that can be swiveled out to provide anchor points for wall or ceiling mounting, even upside down.
IP24 Rating: The dehumidifier is rated IP24, indicating its resistance to splashes of water from various directions.
Compact Design: The dehumidifier is compact and stackable, with a carrying handle for easy portability. Its construction uses durable, all-metal materials, including a stainless marine-grade cover for longevity. See drawing here
Temperature Range: The dehumidifier operates effectively within a temperature range of -4°F/-20°C up to 104°F/40°C, making it suitable for continuous drying applications across a wide spectrum of temperatures.
WiFi Control and Monitoring: With WiFi functionality, the dehumidifier offers advanced monitoring capabilities, allowing users to remotely track humidity and temperature levels, both internally and externally.
Auto Rest: In the even of a power outage the unit will reset when no humidity controller is fitted.  The EPHUM-I-MAX will signal if there has been a power outage via a notification on your cell phone when connection made.
Serial Port: The RJ11 connection detects if a humidistat is present or not.  This also acts as a serial connection for cloud software interface (not supplied)
Fan Capacity: The dehumidifier has a continuous fan option with a clean dry air volume capacity of a single speed fan 105 CFM / 180m3/h, aiding in efficient air circulation. 52dB
Filter: The unit comes with a reticulated 10 PPI easy-to-clean dust filter to maintain air quality and prevent the buildup of debris.  Filters should be cleaned every 90 days.   Replacement pack of three filters EPFILPACK4.  Other filters can be added such as the EPCARFIL30 filter that filters odors also. Both not included.
Exhaust Duct: For North America 38mm/1.5″ and for other markets 40mm or standard push-fit waste water pipe fitting.
Power Cord: Very fast replacement of power cord for use in different markets, connection to generators or replacement if damaged with Ecor Pro patented design.  15'/5m cord lengths.
OPTIONAL DUCTING (Not Included)
Additional Accessories: Addional flange sets can be added to the input and output air flows on the unit.  These flange sets give the ability for 125mm/5″ or 90mm/3″ tubular ducting to be added to the dehumidifier to duct in wet air and dut out dry air.   EPDF125 125mm/3.5″ ducting flange or EPDF90 90mm/3″
INCLUDED
EPD50-RESTO with stadard filter holder
EPHUM-I-MAX wifi humidistat with 1m/3″ of curley cable 
EPDUCT45x1 flexible 1m/3′ of moisture exhaust duct
Short User Manual – QR Code for full user manual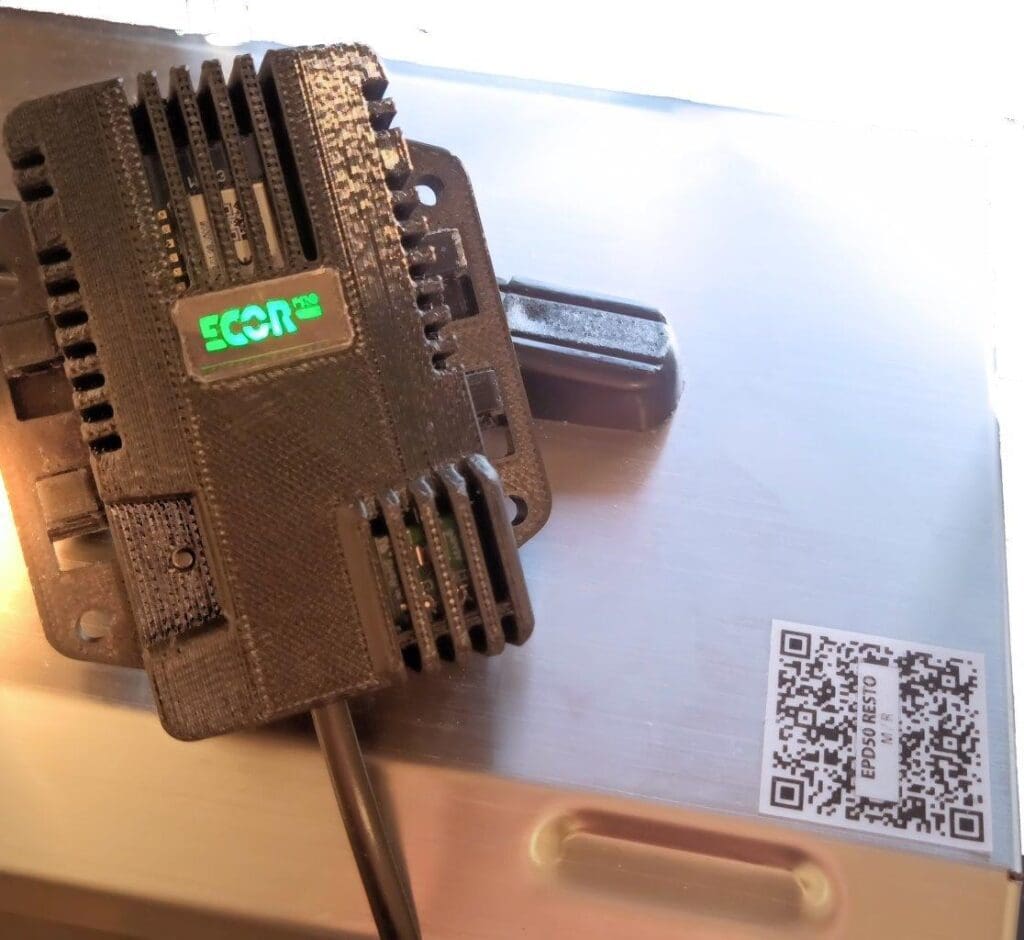 The EPHUM-I-MAX is a comprehensive monitoring and control system that provides a wide range of information and features for managing the performance of the desiccant dehumidifier. Here's a breakdown of the information and features it offers:
Monitored Parameters:
Temperature: The EPHUM-I-MAX allows you to monitor the temperature in both Celsius (°C) and Fahrenheit (°F) units.

Relative Humidity (RH%): You can monitor the relative humidity level in the air, which is important for understanding the moisture content in the environment.

Absolute Humidity: Absolute humidity is measured in grams per kilogram (g/Kg) or grains per pound (GPP), providing insight into the actual amount of moisture present in the air.

Dew Point: The dew point temperature, measured in either Celsius (°C) or Fahrenheit (°F), indicates the temperature at which the air becomes saturated with moisture, leading to condensation.

Volts and Amps: The system allows you to monitor the voltage (V) and current (A) being drawn by the dehumidifier, giving you information about its power consumption.

Power Usage: The system provides data on the power usage of the dehumidifier in Watts.

Job kWh and Job Hours: These parameters help you track the energy consumption and operating duration of the dehumidifier for a specific job.

Hour Counter: This counter keeps track of the total number of hours the dehumidifier has been in operation throughout its lifetime.
Monitoring and Alert Features:
Job Power and Hour Monitor: The system helps you monitor the power usage and operating hours for each specific job.

Ice and Heat Warnings: The EPHUM-I-MAX provides warnings in case of potential issues related to ice buildup or overheating.

Filter Cleaning Warning: Alerts you when the dehumidifier's filter needs cleaning, maintaining optimal performance.

Log Page: Keeps a log of when the dehumidifier was turned off and on, aiding in tracking its operational history.

High / Low Temperature and Humidity Alarms: Allows you to set thresholds for temperature and humidity, triggering alarms if levels go outside the defined range.

Continuous Fan Operation: If selected, the dehumidifier's continuous fan operation can be controlled through the app.

Internal Overheat Warning Notifications: Provides notifications if the internal components of the dehumidifier are at risk of overheating.

Hysteresis Variance: This feature smooths out warnings by introducing a hysteresis, preventing rapid on-off cycling of alerts.

Countdown Timer: Offers countdown timer functionality for up to 24 hours, useful for specific time-based operations.

365-Day Scheduling: Enables you to schedule the dehumidifier's operation over the course of a full year, with 24-hour granularity.

Temperature and Humidity Set Point Control: Allows you to set target temperature and humidity levels for the dehumidifier.

Manual Control Option: Provides a manual on/off control option for easy management.
Overall, the EPHUM-I-MAX enhances the functionality of the desiccant dehumidifier by providing comprehensive monitoring, control, and alert features that enable more effective and efficient operation, along with the ability to analyze historical data graphically.
Positive or Negative Focus Flood Drying
Tent can not be sealed (3-hole drying). More effective to seal the tent using a 4-hole system
Positive Pressure Splitting Dry Airflow
Positive Pressure Splitting Dry Airflow 2
Floor Flood Positive Pressure Outside Tent
Negative Pressure
Simply put the dehumidifier in the room or tent and exhaust the wet air outside of the tent or outside of the room.
How to set up a drying tent