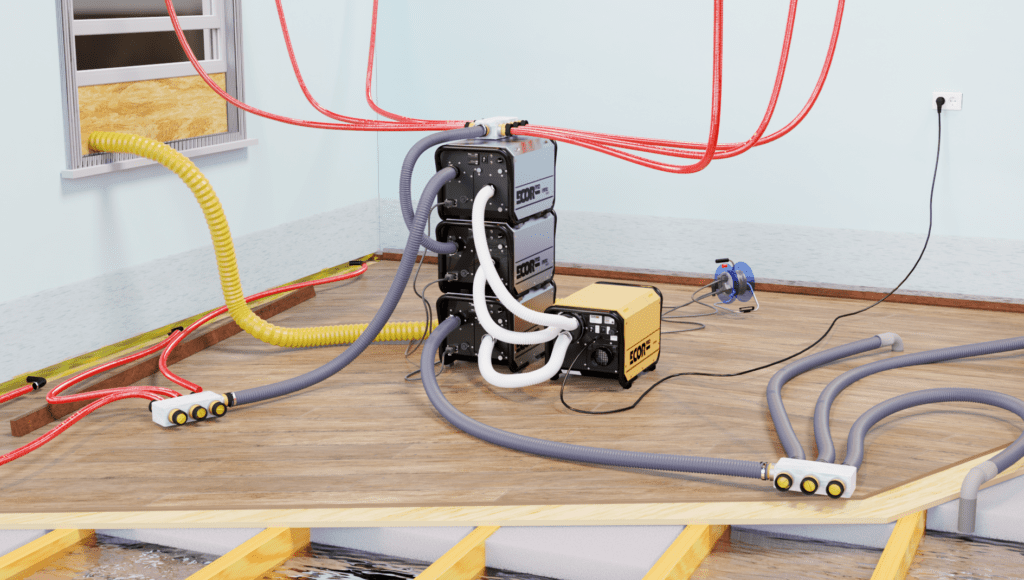 Blower Turbine EPTB2 For Restoration Flood Drying.
200m3/h (117cfm) giving up to 300 mbar (30 kilo pascals) and 1100W / 1.5 HP.
Designed for small to medium sized drying assignments as a stand alone or to boost dehumidifier performance.
Ideal for power drying under floors, in-wall cavities and ceilings – preserving plaster dry wall and flooring.   Reaches where dehumidifiers don't have enough air pressure to force dry warm air where it is needed.
Works on 110V 50Hz or 220V 50Hz automatically. Ideal for all regions in the world. Approved for North America & Europe.
Free Standing or Installed.
Industrial blower turbine EPTB2 mild steel construction with tough epoxy paint finish. Very powerful air blower with 200m3/h or 117cfm 1100W / 1.5 HP.  Moreover, it shortens drying time considerably using high air pressure with added heat from the compression of air and the integral heater. Automatically, it regulates to give constant air temperature out. Gives out up to 260 mbar (26 kilo pascals) of air pressure with manual analogue variable control. Will dry 24/7 and dry even down to -20°C/-4°F. Can work up to 40°C/104°F. Perfect for any climate.
Mild Steel Inside & Out




with Tough Epoxy Paint Finish.



It can be carried by one person and transported easily with the carrying handles. Moreover, self-regulating energy usage that adapts to air pressure differences using always the right amount of power to dry effectively.
50mm / 2″ connectors in and out.
Quickened drying. Input air from any Ecor Pro desiccant dehumidifier. Three EPTB2 fans can be used with any one Ecor Pro dehumidifier giving an energy efficient focused drying solution. This is achieved using the EPJ50 attachment added to the dehumidifier. (This attachment converts the 125mm / 5″ process air out from the dehumidifiers into up to 3 separate dry air flows of 50mm / 2″). These inputs can be put directly into the EPTB2 meaning three EPTB2 can be used with each dehumidifier.
Suction Drying
The Turbine Blower 2 draws air from the construction through hose and water separator. Moreover, it is crucial that a water separator is used to prevent critical water from being sucked into the Turbine Blower which will damage it's motor and cause an electrical shock safety issue.
Pressure Drying
The Turbine Blower 2 turbine can be fed dry air from any Ecor Pro desiccant dehumidifier, compressing this down to force it into cavities in walls, floors and ceilings. This makes the construction temperature rise and the drying process quicken. This heated air also can hold more water which is forced out of the cavities through air leaks back into the main room. These leaks can be controlled via drilled holes or just left to naturally return through gaps between the floor and the walls. In the room that air can be dried and recirculated.  Before pressure drying is applied, suction drying shall be used to remove any surface water from the voids again quickening drying.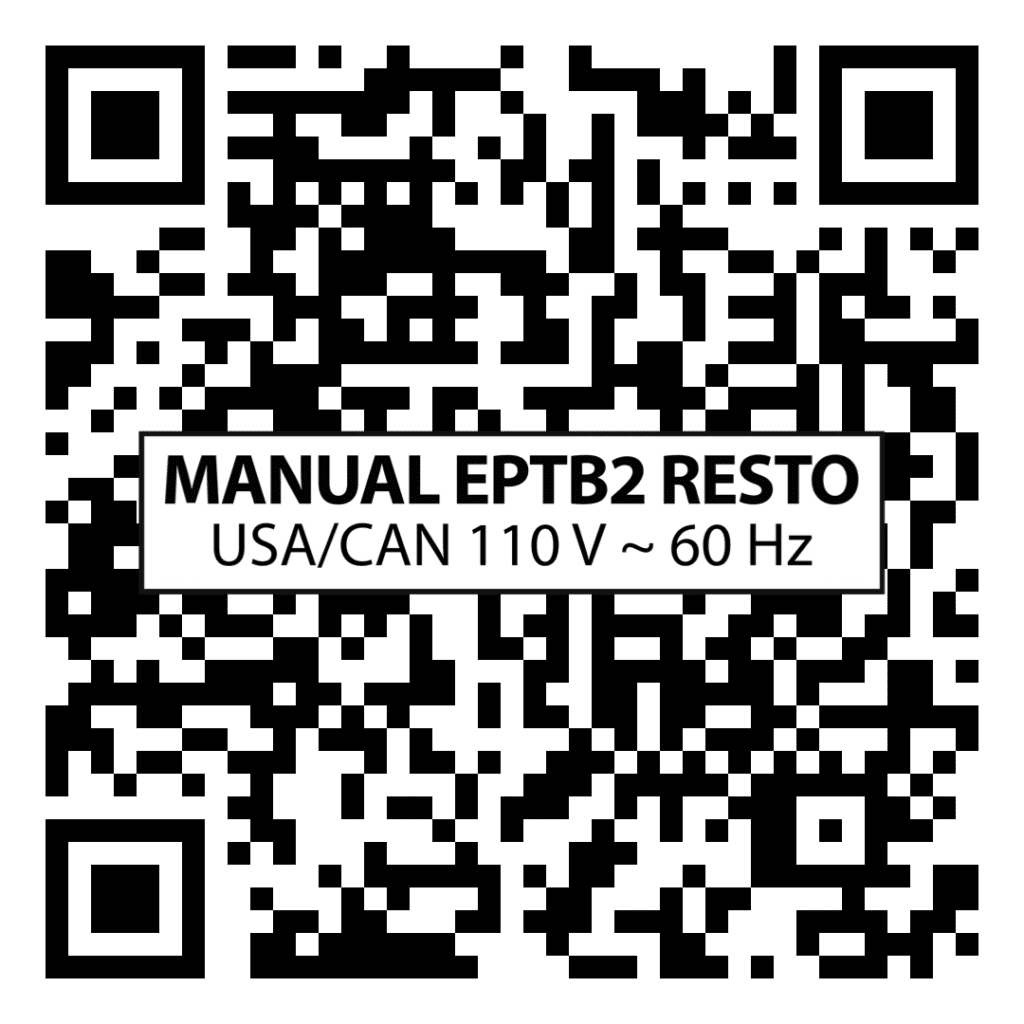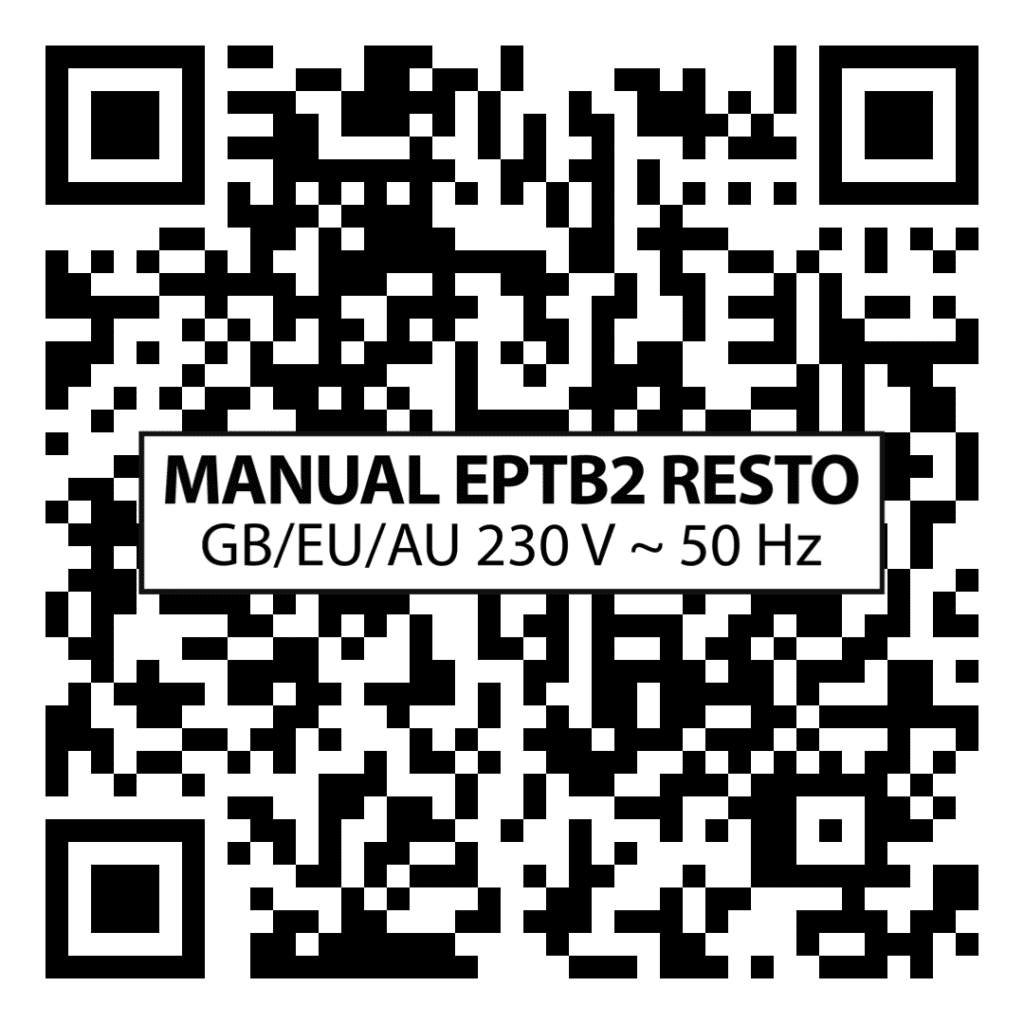 Parts Associated
Features Explained
Turbine Blower or Turbine Vacuum– Small turbine blower. Used even in reverse to suck moisture from an environment (using the correct water separator). Moreover, it has the same footprint as the Ecor Pro DH35XX or EDP200. EPTB2 can be used with all dehumidifiers but stacks with these particular models.
Highly Compact – Small turbine blower that has the same footprint as the Ecor Pro DH35XX or EDP200. EPTB2 can be used with all dehumidifiers but stacks with these particular models.
HEPA Type Motor Dust Filter & Process Air Filter – The Turbine Blower 2 benefits from a HEPA type dust filter for maximum filtration of motor air and process air. Furthermore, easily replaced in seconds in a metal frame. 
110V or 220V 50Hz or 60Hz – The EPTB2 can be used with a variety of voltages and voltage frequencies. Ideal for stock management when using safely on 110V or when needing to use between 110v & 220V supplies.
4m / 12′ Power Cord – No need for complicated cord set changes. In addition, the kettle lead that is secured in place by screw can be change in seconds if needed to be replaced if the cable gets damaged or working on a new site where alternative plugs are more suited.
Easy Repair – Maintenance and eventual repair have been thought through with an easy to remove cover that gives easy access to service the motor if needed and clean the internal parts from duct to ensure good working order.
On Four Feet – Anti scratch nylon plastic feet (rubber feet would mark some wood flooring).
The profile allows easy stacking with the EPD200 / DH35XX or the EPD300 / DH55XX dehumidifiers.
Carrying Handles – Easy to carry by one person. The handles can be removed if the product is being installed. The handles also protect the duct flanges if in transit.
Low Voltage Controller Connection – There is no integral humidistat but one can be added very simply as a controller or any alternative mode of control. A military standard connector is on the front of the unit.To add this use the remote humidistat or low voltage controls. Very safe voltage of 24V DC.
Duct Air-In & Out – The turbo blower has all ducts fitted with metal flanges to allow ducting to be added with 50mm / 2″ in and the same for the output.  The air inlet size of duct can be changed if need for linking to other size ducts more easily.
Variable Throttle – The EPTB2 can be controlled via the analogue throttle to give full control over air flow
In-Built Heating – The 1100 Watts of power plus the compression of the air produces heat.  That is between 1100W & 1800W of heat energy.  This energy aids in drying exciting the water molecules in the area needing to be dried.  
Auto Reset – If there is an interruption to the power supply, the EPTB2 will continue to operate as soon as the power has been returned. Perfect in locations where the there is a "dirty" power supply that can affect other electronically controlled products.
Hour Metre & Power Consumed Meter – Automatically logs run time in hours and and power consumed in kilo watt hours to make any restoration claim easy to calculate by the home owner claiming back the cost of electricity.
Main Switch – Power on switch and power on green  light indicator.
Low Air Flow Light – Whether blowing or sucking, if there is a blockage a warning indicator will illuminate red.   Should the motor overheat in this instance the motor will shut down, cool and restart when the temperature reduces adequately.
In-Built Silencer – Able to operate at 47dB,  the Turbine Blower 2  is able to operate even when occupants are sleeping.
All Metal Construction – All mild steel inside and out.  Designed for longevity and the restoration trade in mind.