NO WATER PRODUCED. MOISTURE IS VENTED AWAY. EVEN UPWARDS.
Ideal for Flood Drying, Building Maintenance & Storage.
17 Pint

Desiccant Dehumidifier 110V / 60Hz.
Equivalent to a Compressor Dehumidifier of 30 Pints @ 68°F.
Free Standing or Installed.
Industrial dehumidifier EPD30 steel construction with tough epoxy paint finish.Very small for its 17 Pint capacity. Dries 24/7. Dries down to -20°C/-4°F. Works up to 40°C/104°F.
Steel Inside & Out.

Tough Enough Even for Hiring or Restoration.
Can be carried by one person. Transported easily with removable carrying handles.Self regulating energy usage. Adapts to air pressure differences. Always the right amount of power to dry effectively.
3 Hole Dehumidifier.
Input process air is dust filtered & dried. Input air can be ducted in & out with a 125mm / 5″ duct. Wet air exhaust is 40mm / 1.5″ duct.
Ecor Pro's research shows that the EPD30 will be 4-7 x faster at drying buildings at low temperatures than a traditional compressor dehumidifiers.
Features Explained
Highly Compact – Very small 17 Pint dehumidifier in the market.
Dust Filter – Simple reticulated dust filter in metal frame. Shakened clean or easily replaced. Prevents dust particles entering the unit and impeding performance
Easy Repair – Maintenance and eventual repair have been thought through with an easy to remove cover that gives easy access to replace cord sets or warn parts by a qualified persons quickly. Prolonging the lifetime of the dehumidifier.
On Four Feet – Anti scratch plastic feet that are design Patented. Swivel out to provide anchor points for the dehumidifier.
Carrying Handle – Easy to carry by one person. The handle can be removed if the product is being installed and replaced by a top lid without handle.
Humidistat Connection – There is both and internal humidistat fitted & the possibility to put on an external humidistat but one can also be added very simply. A jack plug connector is on the on the humidistat EPHUM24DF. This will turn the dehumidifier on an off automatically remotely if the dehumidifier is concealed or ducted in position.
Perfect for any climate.
Duct Air-In & Out – The dehumidifier has all ducts fitted with flanges to allow ducting to be added with 125mm / 5″ hard or flexible ducting.
Wet Air Exhaust – The has one internal fan. The moisture is vented away allowing it to work in colder temperatures. The moisture is purged from the system by 15% of the process air so will dry with slight negative pressure.
"Three Hole System" – The system is classed as a "three hole" system due to the one inlet and two outlets.
Note that the EPD50 dehumidifiers have a process air outlet flange. The EPD30 models do not. This allows dry air to be ducted into a space.
Power Supply
– 110V supply 60Hz
Auto Reset – If there is an interruption to the power supply, the dehumidifier will continue to operate as soon as the power has been returned. Perfect in locations where the there is a "dirty" power supply that can affect other electronically controlled products.
All Metal Construction – All metal with epoxy paint finish heat treated for strength inside & outside. Designed for longevity.
5m / 15′ Power Cord
– no need to join cables when placed for instance in crawl spaces or lofts in the home for example.
Dehumidifier Installation
This is a 3-Hole dehumidifier meaning that there is one  fan inside.  It is a Axial fan unlike the other larger units in the range.  Axial fans have the advantage of needing less power but have less fan pressure.  Fan pressure is needed to force through ducting. 
That is why there is no ducting flange on the outlet of this unit

.  Part of the dried process air is turned around, heated and used to purge the internal adsorption wheel of moisture that can be then vented away.
Moisture is "vented away".  No water is produced.  The moist air is vented to the outside or moved to another area that is well ventilated. Most common installation. If the machine is in the room being dried the internal humidistat can be used to regulate humidity.  If ducted and outside the room or house being dried an external humidistat may be needed.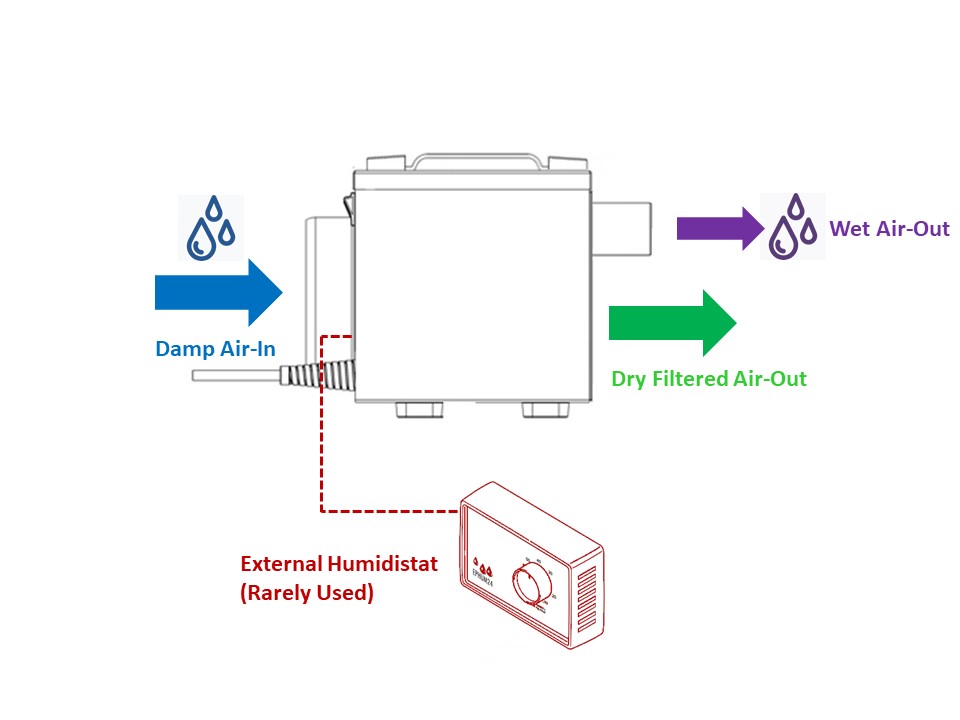 Perfect for crawl space areas or attic areas.  Close openings to the crawl space and the unit will regulate the humidity.  Use ducting to help spread the dry air around the crawl space area.
Recirculating the air to be dried gives a compound effect and gives faster drying.  This system is a "Negative Pressure" system.   Air has to replace the air that has been exhausted.  In a normal home air is actually being replaced  frequently typically 2.5 times per hour. No home is air tight.
The machine can just be put in any room such as a garage.  Here the larger model is shown but in smaller garages it can be sufficient.  Moisture is simply vented away.  To read more about garages see
here
Used on Boats as a "Carry on" or Installed