HUMIDISTAT FOR DH2500 / DH2511/ DH3500 / DH3511 / EPD150 / EPD200

DEHUMIDIFIERS



Installed in Seconds
Easy to operate. Please note there is a 5% tolerance factor built into every dehumidifier. The higher the HIGHER THE HUMIDITY % SETTING THE LESS THE DEHUMIDIFIER WILL DRY and vice-verse. At near 100% the humidistat will effectively turn the humidistat off. At a very low setting the humidistat will effectively turn the dehumidifier on continuously.
Swapps from 110V to 220V input automatcally. 
The humidity percentage relates to the relative humidity level of the air sometimes referred to a RH%.
All Black Construction



EPHUM110E – HIGH VOLTAGE Used with EPD200 / DH3500, EPD150 / DH2500 / DH2511 / DH3511, High voltage humidistat with 1.5m / 4″ cable. Comes fitted with mil standard plug that screws directly into the dehumidifiers in seconds.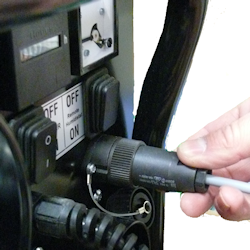 Simple humidity probe can be added to ducting and in remote areas also 1.5m / 4′ long.  Plugs into EPHUM110E via a 2.5mm jack plug all provided.
EPHUM24DF – LOW VOLTAGE Used with EPD50 / DH1200, EPD30 / DH800, Low voltage humidistat with 2m / 6″ cable. Also comes fitted with a jack plug fitted to plug directly into the dehumidifiers.