The EPD30 dehumidifier is an industrial-grade desiccant dehumidifier designed for specific applications such as maintaining the moisture in an attic, crawl space, garage or for storage of items moisture affected. Here are some key features and advantages of the EPD30 dehumidifier:
1. Moisture Venting: Unlike traditional dehumidifiers that collect water in a reservoir, the EPD30 dehumidifier vents away moisture, even upwards. This feature eliminates the need for emptying water tanks and allows continuous operation without interruption.
2. Desiccant Technology: The EPD30 utilizes desiccant technology, which is effective in drying air even at low temperatures. It is capable of drying down to -20°C/-4°F and operates efficiently in temperatures up to 40°C/104°F. This makes it suitable for challenging environments where traditional compressor-based dehumidifiers may struggle.
3. Compact and Durable Design: The EPD30 features a steel construction with a tough epoxy paint finish, providing durability and resilience. Despite its small size, it has a capacity equivalent to a 30-pint compressor dehumidifier at 68°F, making it highly efficient.
4. Portability and Versatility: The EPD30 dehumidifier is designed for easy transportation, with carrying handle allowing one person to move it around conveniently. It can be used as a free-standing unit or installed in a fixed location, depending on the specific requirements.
5. Efficient Energy Usage: The EPD30 has self-regulating energy usage, adapting to air pressure differences and optimizing power consumption to ensure effective drying while minimizing energy waste.
6. Ducting Options: The dehumidifier features three holes, allowing for flexible ducting options. The input process air is dust filtered and dried, and the wet air exhaust can be ducted out using a 40mm/1.5″ duct. Additionally, the input air can be ducted in and out with a 125mm/5″ duct, providing further flexibility for installation and air circulation. Majority of cases it will be simply placed in the room needing to be kept dry.
According to Ecor Pro's research, the EPD30 is claimed to be significantly faster at drying buildings at low temperatures compared to traditional compressor dehumidifiers, with estimated drying times being 4-7 times quicker. This can be beneficial in scenarios where time is a crucial factor, such as flood restoration or building maintenance.
It's important to note that the specific capabilities and performance of the EPD30 dehumidifier may vary based on operating conditions and the environment in which it is used. It is advisable to consult Ecor Pro's specifications and guidelines to ensure it suits your specific requirements.
Explicación de las características
Highly Compact – Very small 17 Pint dehumidifier in the market.
Dust Filter – Simple reticulated dust filter in metal frame. Shakened clean or easily replaced. Prevents dust particles entering the unit and impeding performance
Easy Repair – Maintenance and eventual repair have been thought through with an easy to remove cover that gives easy access to replace cord sets or warn parts by a qualified persons quickly. Prolonging the lifetime of the dehumidifier.
On Four Feet – Anti scratch plastic feet that are design Patented. Swivel out to provide anchor points for the dehumidifier.
Carrying Handle – Easy to carry by one person. The handle can be removed if the product is being installed and replaced by a top lid without handle.
Humidistat Connection – There is both and internal humidistat fitted & the possibility to put on an external humidistat but one can also be added very simply. A jack plug connector is on the on the humidistat EPHUM24DF. This will turn the dehumidifier on an off automatically remotely if the dehumidifier is concealed or ducted in position.
Perfect for any climate.
Conducto de entrada y salida de aire - El deshumidificador tiene todos los conductos equipados con bridas para permitir que se añadan conductos con 125 mm / 5″ conductos duros o flexibles.
Escape de aire húmedo - El tiene un ventilador interno. La humedad se ventila permitiendo que funcione en temperaturas más frías. La humedad es purgada del sistema por el 15% del aire de proceso, así que se secará con una ligera presión negativa.
"Three Hole System" – The system is classed as a "three hole" system due to the one inlet and two outlets.
Note that the EPD50 dehumidifiers have a process air outlet flange. The EPD30 models do not. This allows dry air to be ducted into a space.
Suministro de energía
- Suministro de 110V 60Hz
Auto reset - Si hay una interrupción en el suministro de energía, el deshumidificador continuará funcionando tan pronto como la energía haya sido devuelta. Perfecto en lugares donde hay una fuente de alimentación "sucia" que puede afectar a otros productos controlados electrónicamente.
Construcción de metal - Todo el metal con acabado de pintura epóxica tratado térmicamente para que sea resistente por dentro y por fuera. Diseñado para la longevidad.
5m / 15′ Cable de alimentación
- no hay necesidad de unir los cables cuando se colocan, por ejemplo, en los espacios de descanso o en los lofts de la casa, por ejemplo.
Dehumidifier Installation
This is a 3-Hole dehumidifier meaning that there is one  fan inside.  It is a Axial fan unlike the other larger units in the range.  Axial fans have the advantage of needing less power but have less fan pressure.  Fan pressure is needed to force through ducting. 
That is why there is no ducting flange on the outlet of this unit

.  Part of the dried process air is turned around, heated and used to purge the internal adsorption wheel of moisture that can be then vented away.
Moisture is "vented away".  No water is produced.  The moist air is vented to the outside or moved to another area that is well ventilated. Most common installation. If the machine is in the room being dried the internal humidistat can be used to regulate humidity.  If ducted and outside the room or house being dried an external humidistat may be needed.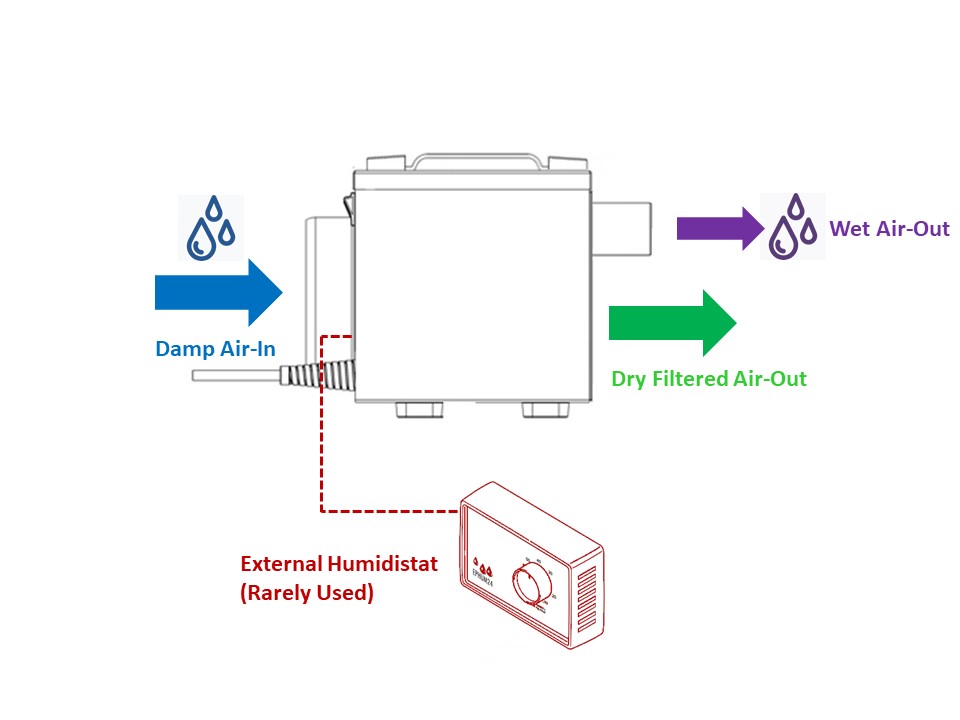 Perfect for crawl space areas or attic areas.  Close openings to the crawl space and the unit will regulate the humidity.  Use ducting to help spread the dry air around the crawl space area.
Recirculating the air to be dried gives a compound effect and gives faster drying.  This system is a "Negative Pressure" system.   Air has to replace the air that has been exhausted.  In a normal home air is actually being replaced  frequently typically 2.5 times per hour. No home is air tight.
The machine can just be put in any room such as a garage.  Here the larger model is shown but in smaller garages it can be sufficient.  Moisture is simply vented away.  To read more about garages see
here
Used on Boats as a "Carry on" or Installed